Sony Ericsson Xperia arc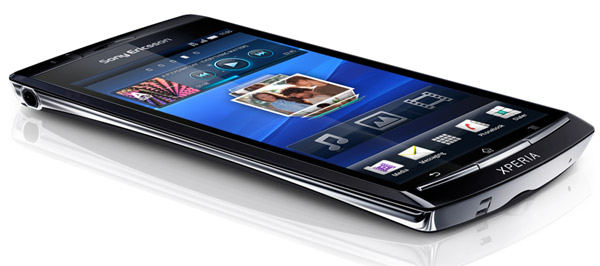 Your life in vivid colour. Videos and stills. Show it all off on the sharp, crisp and clear 4.2' multi-touch Reality display with Mobile BRAVIA® Engine. The Xperia™ arc Android touch phone - designed to be daring.

Overview
Android touch phone with super-screen
View pics and video in vivid colours with your Android touch phone. Crisp and clear on the 4.2" Reality display with Sony Mobile BRAVIA® Engine
The sleek, super-slim Xperia™ arc
Start with premium materials. Stir in a beautiful curve. Squeeze down to 8.7 mm. And there it is, a perfect palm fit: the slim, lightweight and strong Xperia™ arc.
HD phone with 8.1 megapixel camera
Your HD phone has a Sony Exmor R™ for mobile CMOS sensor that lets you capture high-quality movies and stills in low light. So go ahead and shoot. Then show, in stunning HD, direct on your TV via the HDMI connector.

Features

You choose - Android Market™
Going out? Finding out? Or perhaps just chilling out? Download any application you want from Android Market™ and customise your Xperia™ arc to make it exclusively yours.
Reality Display with Mobile BRAVIA® Engine
Enhanced contrast. Richer colours. Less image noise. The Reality Display with Mobile BRAVIA® Engine makes the super-wide, 4.2", LED back-lit screen sharp and crisp. And through reduced light reflection, the picture stays clear when you're outdoors, too.
Getting dark?
Dusk, dawn or just a crummy old light bulb? Sony's Exmor R™ for mobile CMOS sensor lets you capture high-quality, bright pictures and videos in poor light conditions.
Designed for style icons
Let your eyes go wide. The sleek curvature of the stunningly slim - just 8.7 mm - Xperia™ arc makes for a perfect palm-fit. This slender, strong and lightweight smartphone is built to make jaws drop.
Connect to your TV via HDMI
Connect your Xperia™ arc to your TV and cuddle up in the sofa. The HDMI connection lets you view pictures and videos from your phone on your TV screen using your TV remote control.
Powered by Android (Gingerbread)
Rich multimedia. Gaming power. Your Xperia™ arc is powered by Android (Gingerbread).
Camera power
Ready for some hard facts? Try 8.1 megapixels. Or maximum aperture of f/2.4 (in short, this means that more light reaches the image sensor). Your Xperia™ arc has the camera muscles you need to get great shots.
Timescape™ - meet your mates
Sony Ericsson Timescape™ lets all your communication with a person come together in one place. Facebook™ posts, calls, text messages - all gathered, so you don't have to open loads of different apps to see what's going on.
Your life in brilliant HD
Clips from your summer holidays. Your little baby daughter's first smile. Shoot it. In brilliant, sharp HD video with one touch of a button.
Use your headphones
Got a favourite pair of headphones? Connect them to your Xperia™ arc through the 3.5 mm audio jack.
Find the way - aGPS
You'll never get lost again. Your phone has built-in aGPS. Location-based services help you find the way to your destination. Or add location info to your images - use the geo-tagging function.
Wi-Fi connect
Connect the quick and easy way. On the move. In cafés. At the airport. Your Xperia™ arc has Wi-Fi support.
FM Radio
There's music in the air - just tune in and enjoy. Your phone has a built-in stereo FM radio.
Specifications
Size 125.0 × 63.0 × 8.7 mm / 4.9 × 2.5 × 0.3 inches
Weight 117.0 g / 4.1 oz
Available colours Midnight Blue , Misty Silver
Screen 854x480 pixels / 4.2" 16,777,216 colour TFT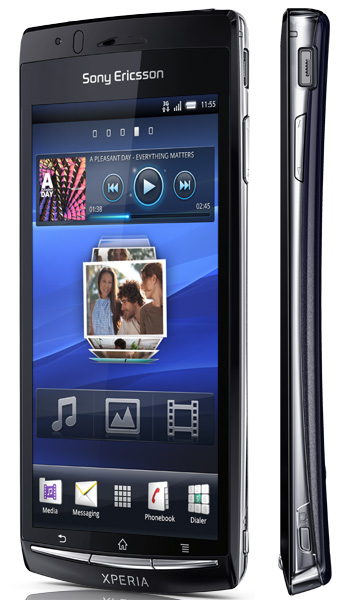 Memory
microSD™ (supported to 32GB)
Phone memory up to 320MB

Networks
GSM/GPRS/EDGE 850/900/1800/1900
UMTS/HSPA 800/850/1900/2100
UMTS/HSPA 900/2100

Camera
Red-eye reduction
Flash / light type - LED
Digital Zoom - smart zoom up to 2.46x
Camera - 8.1 Megapixel
Video stabiliser
Video recording
Video light
Touch focus
Sony's Exmor R™ for mobile CMOS sensor
Smile detection
Send to web
Image stabiliser
HD video recording (720p)
Geo-tagging
Face detection
Auto focus

Music
Sony Ericsson Music player
Music tones - MP3, AAC
TrackID™ music recognition
PlayNow™
Bluetooth™ stereo (A2DP)
Album art

Web
Google Voice Search
Android™ Market
Web browser - WebKit
Pan & zoom
Google™ search
Bookmarks

Entertainment
Radio - FM radio with RDS
Radio entertainment round the clock.
YouTube™
View your favourite YouTube™ videos, or upload your own - access is easy via the YouTube™ application.
Video Clip
Video streaming
Motion gaming
Media Browser
3D games

Connectivity
ANT+ technology
Google Maps™ - with Street View
Google Latitude™
Synchronisation via Sony Ericsson Sync
Synchronisation via Facebook™
Synchronisation via Google Sync
Synchronisation - Exchange ActiveSync®
Micro USB support
WiFi™
USB support
USB mass storage
TV out
HDMI support
Modem
Bluetooth™ technology
aGPS
3.5 mm audio jack

Messaging
Google Mail™
Text messaging (SMS)
Predictive text input
Picture messaging (MMS)
Instant messaging
Email
Conversations

Communication
Google Talk™
Noise shield
Twitter™ - Timescape™ integration
Vibrating Alert
Speakerphone
Sony Ericsson Timescape™
Facebook™ application

Design
Keyboard - Onscreen QWERTY
Wallpaper animation
Touchscreen
Reality display with Mobile BRAVIA® Engine
Picture wallpaper
Auto rotate

Organiser
Google Calendar™
Phone book
Infinite button
Flight mode
Document readers
Calendar
Calculator
Android™ platform
Alarm clock

Extras
LiveView™
Take control of your phone without ever taking it out. With LiveView™ phone remote. It's wearable and wireless. And you can customise it with applications. Discover your new best buddy - LiveView™.
MW600
Rock to the radio. Groove to your tunes. Network. Gossip. While you're hands are free to do as they please.Enjoy exceptional on-the-go audio.Join the wireless revolution. Discover MW600.
BA750
Surf the web. Enjoy your favourite mobile music and videos. Text, chat - stay connected when you're on the move. Stick with an original Sony Ericsson battery. And get the most out of your phone.
Category :
Sony Ericsson
|
Comments (0)
|
Write a comment
|