Sony Ericsson Xperia X10 mini
Sony Ericsson Xperia X10 mini

How's it going? Tell everyone the easy way. From a super-small Android smartphone designed to let you do everything with just one hand. From four corners that you customise however you want.

Overview
One-hand mini Android phone
Busy? Do lots more. You only need one hand to use the X10 mini Android phone. Reach any app you like. Through the four corners on your home screen. And enjoy a latte in the other. Then play, listen, email, tweet. With the touch a thumb. On a mini Android phone with a really snug fit.
Put everything where you want it
What do you like best? Facebook™? YouTube™? Music? Make the four corners of your Android smartphone screen personal with great entertainment and your favourite apps from Android Market™. Flick through the widgets you want with your thumb and put them in the centre of your homescreen.
Android smartphone. Have it your way
Going out? Just chilling out? Choose from more than 100,000 apps on Android Market™. Download them straight to your X10 mini Android smartphone. Get entertained with the latest YouTube™ clips or stay in touch with instant email and your favourite social networks. The Google™ browser and 3G give you high speed web access. Navigate your way with Google Maps™.

Features
Timescape™ - meet your mates
Sony Ericsson Timescape™ lets all your communication with a person come together in one place. Facebook™ posts, calls, text messages - all gathered, so you don't have to open loads of different apps to see what's going on.
Update your Xperia™ X10 mini
- New software is available for your Xperia™ smartphone. Update your software to get the latest features and corrections and keep your phone in the best possible condition.
One touch to everything
What makes your life easy? Put what you want where you want it - in any corner you like. Email top right? Facebook™ bottom left? Simply swipe the touchscreen with your thumb to navigate to what you want – or to dial the number on the virtual keypad. On a phone that feels perfect in your palm.
Make it yours
Your indispensable navigation app? Your music? A news site? You choose what's important to you. Just take your pick for the four corners of your home screen. Change whenever you feel like it. Want more convenience? Add a widget and have it right under your fingertips, at the centre of the screen.
Everything from everywhere
All your comms with your friends via the phonebook. All the artist info you want through the music player. Just touch the infinite button and have it all. Instantly.
Let it entertain you
What's on today? Hip hop beats or Bach? A blockbuster movie or an indie film? Plug in your favourite headphones and enjoy your music through the 3.5 mm jack. And for your viewing pleasure, there's that great 2,55 inch screen.
Facebook™. The people in your life – in your phone
What's on? Read. See. Share. Your photos, messages, comments. Upload photos. Change your profile. On Facebook™, direct from your phone.
Say it with a tweet

Thought-provoking quotes. A word from the wise guy. That great song you just heard, and found out about through TrackID™. Let your friends - why, the whole world! - know about it through Twitter™.
You choose - Android Market™
Going out? Finding out? Or perhaps just chilling out? Download any application you want from Android Market™ and customise your Xperia™ X10 mini to make it exclusively yours.
Android™ = Google™ apps
Your Xperia™ X10 mini is based on the Android™ platform. Enjoy the power and possibilities of Google™ applications - Google Search™, Google Talk™, Gmail™, YouTube™, Google™ Maps and Android Market™. In addition, you can upload videos to YouTube™ straight from the camera app.
Do it all. At once.
Listen. Browse. Hit the highscore. All at once. Switch between apps and enjoy what you want. Multitasking - the easy way.
Find the way - aGPS
You'll never get lost again. Your phone has built-in aGPS. Location-based services help you find the way to your destination. Or add location info to your images - use the geo-tagging function.
Wi-Fi connect
Connect the quick and easy way. On the move. In cafés. At the airport. Your Xperia™ X10 mini has Wi-Fi support.
HSPA - serious speed
Turbo 3G gives you broadband-like speed in your phone. Download large files and email attachments in a snap. Get Web sites and news feeds to your screen in seconds.
FM Radio
There's music in the air - just tune in and enjoy. Your phone has a built-in stereo FM radio.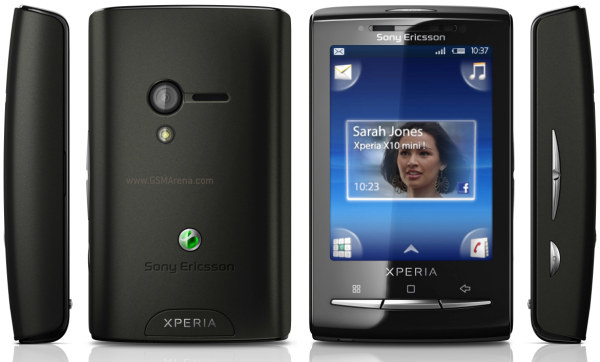 Specifications
Size 83.0 × 50.0 × 16.0 mm / 3.3 × 2.0 × 0.6 inches
Weight 88.0 g / 3.1 oz
Available colours Black , Pearl White , Lime , Red , Pink , Silver
Screen 240 x 320 pixels (QVGA) / 2.55" capacitive touchscreen


Memory
MicroSD™ support (up to 16 GB)
Phone memory up to 128MB

Networks
GSM/GPRS/EDGE 850/900/1800/1900
UMTS/HSPA 900/2100
UMTS/HSPA 850/1900/2100

Camera
Flash / light type - Photo flash
Camera - 5 megapixel
Auto focus
Geo-tagging
Video recording
Video light

Music
TrackID™ music recognition
Sony Ericsson Music player
Music tones - MP3, AAC
Album art
PlayNow™
Bluetooth™ stereo (A2DP)

Web
Google Voice Search
Android™ Market
Pan & zoom
Google™ search
Web browser - WebKit
Bookmarks

Entertainment
Video Clip
Radio - FM radio with RDS
3D games
Video streaming
YouTube™

Connectivity
ANT+ technology
Google Maps™ - with Street View
Google Latitude™
Synchronisation via Sony Ericsson Sync
Synchronisation via Facebook™
Synchronisation via Google Sync
Synchronisation - Exchange ActiveSync® via RoadSync client
Micro USB support
NeoReader® barcode scanner
3.5 mm audio jack
Bluetooth™ technology
aGPS
USB support
USB mass storage
WiFi™
Wisepilot™ turn-by-turn navigation

Messaging
Google Mail™
Conversations
Email
Instant messaging
Predictive text input
Text messaging (SMS)
Picture messaging (MMS)

Communication
Google Talk™
Twitter™ - Timescape™ integration
Facebook™ application
Sony Ericsson Timescape™
Speakerphone
Vibrating Alert

Design
Four corner home screen - customisable icons
Auto rotate
Picture wallpaper
Touchscreen

Organiser
Google Calendar™
Android™ platform
Alarm clock
Calendar
Calculator
Flight mode
Notes
Phone book
Stopwatch
Tasks
Timer
Infinite button
Extras
MS450
Rock out. Let loose. Break free. With the MS450. In the park. At the beach. Or even at work. Why not? MS450. Are ultra-small. Ultra-sleek. And deliver rich stereo sound.
XP111
Stay fit and connected with the Fitness Experience Pack. Run. Bike. Walk. Blade. However you like to work out, up your energy and have some fun. It's the perfect pack. With the app. And the extras. To be your new workout buddy.
XP131
Accessorise your Xperia™ X10 mini with the Design Experience Pack. Dressing up. Dressing down. Fancy dinner. Casual meet-up. Sony Ericsson has the perfect pack for you. Go ahead, accessorise your phone.
MK100
Run. Ride. Lift. Bike. Stay in shape. And have fun. With Active Music Kit MK100. Secure your phone in the Sport Armband CA600. Slip on Active Stereo Headphones HPM-66 (with 3.5mm connector). And get active.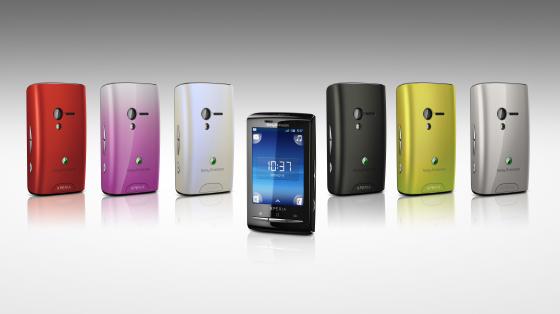 Category :
Sony Ericsson
|
Write a comment
|
Print
Comments