Sony Ericsson Vivaz Pro
Sony Ericsson Vivaz Pro

One touch HD video phone with continuous auto focus. Slide-out QWERTY keyboard for easy messaging. Shoot. Show. Share.

Overview
HD video phone - at a touch
How's life? Shoot it and publish it online in seconds. One press on the dedicated video key and you're ready to publish life where you are to the world.
Say it in words
Got a story to tell? Your video phone has a keyboard made for fast words and fun messages. Tell your story in as many words as you want.
Work and play with your HD video phone
Wherever you are, you have every aspect of your life with you. Read and send email. Surf and share. Stay connected and enjoy life with your Vivaz™ pro HD video phone.

Features
Your life in brilliant HD
Clips from your summer holidays. Your little baby daughter's first smile. Shoot it. In brilliant, sharp HD video with one touch of a button.

Windows 7 compatible
Want to see what Windows 7 Device Stage™ has to offer? Grab a USB cable and connect your Vivaz™ pro to a PC. Enjoy easy access to Media Go. Discover tools that help you make the most of your creativity. Or just relax and let yourself be entertained.
YouTube™ compatible
Watch your favourite clips over and over again. And when that funny moment you just caught on video deserves a wider audience, upload it for all to see. Your phone is fully YouTube™ compatible.
Touch UI
The touch user interface makes navigation truly intuitive - whether you're browsing the media menu, adjusting your camera settings or playing music.
Find the way - aGPS
You'll never get lost again. Your phone has built-in aGPS. Location-based services like Google Maps™ and Wisepilot help you find the way to your destination. Or add location info to your images - use the geo-tagging function.
Face detection
Want the people in your photos to come out sharp and clear? With the Face detection function activated, the camera automatically finds - and focuses on - the face in your viewfinder.
Use your headphones
Got a favourite pair of headphones? Connect them to your Vivaz™ pro through the 3.5 mm audio jack.
Comes with Facebook
With Facebook integrated, your Vivaz™ pro makes it easy to stay social. You have your friends' status updates on your phone screen. And when you snap a photo, you can upload it straight to your Facebook page.
Anything on TV tonight?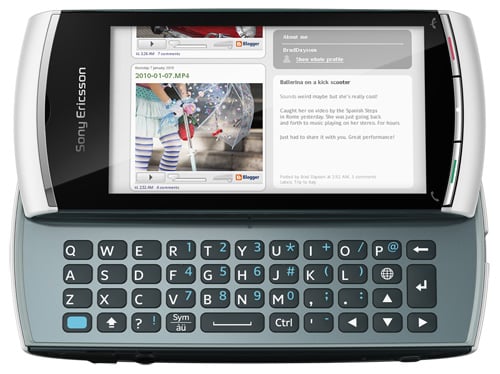 Your holiday snaps. The video from last weekend's birthday bash. Connect via TV out and voila - that big old screen in your living room just got interesting.
Drag, drop, enjoy - Media Go™
The perfect entertainment organiser - Media Go™ makes it easier than ever before to bring your media with you, wherever you go. Transfer your media files between your phone and PC via drag and drop. File conversion is hassle-free, too: Media Go™ automatically converts films and music files to give you the best possible quality.
Just tap your screen
Instant access to music, games and applications: just tap your screen and choose. The PlayNow™ service brings you unlimited entertainment - at the fastest possible speed with turbo 3G or Wi-Fi™.
Accelerometer - auto-rotate
Enjoy your pictures in portrait or landscape mode. To move between modes, simply rotate the phone and the picture follows.
In sync - Push email with ActiveSync™
Your phone keeps you in touch and in sync. Emails, Contacts and Calendar, fast and flexible synchronization according to your needs with Microsoft® Exchange ActiveSync™.
Empowered by QWERTY
Prefer typing the keyboard way? With full QWERTY, your phone lets you handle your messaging the easy way.
Specifications
Size 109.0 × 52.0 × 15.0 mm / 4.3 × 2.0 × 0.6 inches
Weight 117.0 g / 4.1 oz
Available colours White , Black
Screen 360x640 pixel / 16,777,216 colour 16:9 nHD touchscreen (TFT)

Memory
microSD™ (supported to 32GB)
Phone memory up to 70MB

Networks
UMTS/HSPA 900/2100
GSM/GPRS/EDGE 850/900/1800/1900
UMTS/HSPA 850/1900/2100

Camera
HD video recording (720p)
Touch focus
Camera - 5.1 megapixel
Send to web
Flash / light type - Photo light
Digital Zoom - up to x4
Auto focus
Face detection
Geo-tagging
Image stabiliser
Smile detection
Video light
Video recording

Music
TrackID™ music recognition
Music tones - MP3, AAC
Album art
Bluetooth™ stereo (A2DP)
Media Player
PlayNow™

Web
Pan & zoom
Web browser - WebKit
Bookmarks
Google™ search
Web feeds

Entertainment
Media Browser
3D games
Java
Video streaming
Video Clip
YouTube™
Radio - FM radio

Connectivity
Synchronisation via Sony Ericsson Sync
Synchronisation via Facebook™
Synchronisation with computer
Synchronisation - Exchange ActiveSync® via RoadSync client
Micro USB support
USB support
3.5 mm audio jack
aGPS
Bluetooth™ technology
DLNA Certified™
Modem
PictBridge
TV out
USB mass storage
WiFi™
Wisepilot™ turn-by-turn navigation

Messaging
Conversations
Email
Instant messaging
Picture messaging (MMS)
Predictive text input
Sound recorder
Text messaging (SMS)

Communication
Twitter™ - Application
Video call - main camera
Speakerphone
Vibrating Alert
Facebook™ application

Design
Keyboard - QWERTY
Auto rotate
Picture wallpaper
Touchscreen
Wallpaper animation

Organiser
Handwriting recognition
Alarm clock
Calculator
Calendar
Document readers
Flight mode
Notes
Phone book
Symbian™ OS
Category :
Sony Ericsson
|
Write a comment
|
Print
Comments
Snewian, le 15-08-2016 à 09:12:52 :
Education
Sonia Erickson phones are very nicely achieved and used. This efficiency and future are admired for the objectivity of the times of the production of technology with essay-writer-online.blogspot in blogs and for the comments of the Sonia phone with ascertainment of the goals.